Coming soon!
About the Species
This specimen, which is currently uncataloged (shown below), was provided by Dr. Wolfgang Stuppy of the Royal Botanic Gardens, Kew.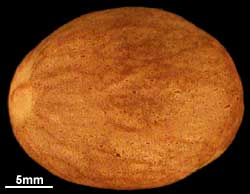 About this Specimen
This specimen was scanned by Matthew Colbert on 14 March 2002 along the long axis for a total of 342 512x512 pixel slices. Each slice is 0.0733 mm thick, with an interslice spacing of 0.0733 mm and a field of reconstruction of 20.5 mm.
About the
Scan
Literature
Stuppy, W. H., Maisano, J. A., Colbert, M. W., Rudall, P. J., and T. B. Rowe. 2003. Three-dimensional analysis of plant structure using high-resolution X-ray computed tomography. Trends in Plant Science 8:2-6.
Links

Nutmeg on the Encyclopedia of Spices
Nutmeg on Gernot Katzer's Spice Pages
Literature
& Links
None available.
Additional
Imagery