From Gaffney et al. (2002)
The Cenomanian redbeds of southern Morocco have yielded skulls of a new genus and two new species of side-necked turtles, Galianemys whitei and Galianemys emringeri. The genus is based on a series of nine well-preserved skulls and three partial skulls. Galianemys is a pelomedusoid pleurodire belonging to the family Bothremydidae Baur, 1891, because it has: (1) precolumellar fossa absent, (2) foramen stapedio-temporale facing anteriorly, (3) eustachian tube separated from stapes by bone, and (4) exoccipital-quadrate contact. Within the Bothremydidae Galianemys is best resolved as the sister group to Cearachelys because both have the jugal retracted from the orbital margin and a small, slitlike fenestra postotica. Galianemys emringeri has a deep fossa pterygoidei, ventrally exposed prootic, foramen nervi facialis and foramen nervi vidiani, a thicker labial ridge, and the jugal not exposed on the triturating surface, while Galianemys whitei has a shallow fossa pterygoidei, covered prootic and foramen nervi facialis and vidiani, a thinner labial ridge, and a jugal exposed on the triturating surface.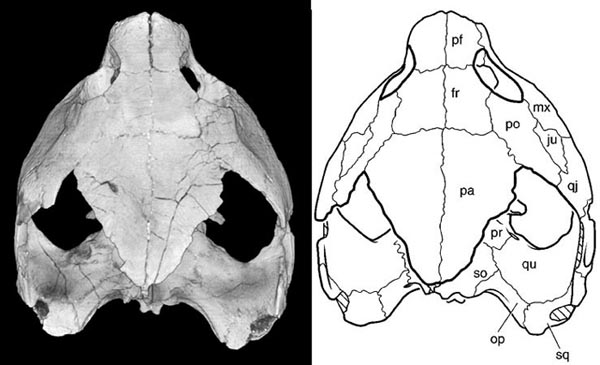 copyright @ American Museum of Natural History 2002
Literature
Gaffney, E.S., H. Tong, and P.A. Meylan. 2002.
Galianemys
, a New Side-Necked Turtle (Pelomedusoides: Bothremydidae) from the Late Cretaceous of Morocco. American Museum Novitates 3379:1-20.
Gaffney, E. S. 1990. Comparative osteology of the Triassic turtle
Proganochelys
. Bulletin of the American Museum of Natural History 194:1-263.
Gaffney, E. S. 1979. Comparative cranial morphology of recent and fossil turtles. Bulletin of the American Museum of Natural History 164:65-376.
Gaffney, E. S. 1972. An illustrated glossary of turtle skull nomenclature. American Museum Novitates 2486:1-33.
Lapparent de Broin, F. de, and C. Werner. 1998. New late Cretaceous turtles from the western desert, Egypt. Annales de Paleontologie 84(2):131-214.
Meylan, P. A. 1996. Skeletal morphology and relationships of the early cretaceous side-necked turtle,
Araripemys barretoi
(Testudines: Pelomedusoides: Araripemydidae), from the Santana Formation of Brazil. Journal of Vertebrate Paleontology 16:20-33.
Tong, T., and E. Buffetaut. 1996. A new genus and species of pleurodiran turtle from the Cretaceous of southern Morocco. Neues Jahrbuch für Geologie und Paläontologie, Abhandlungen 199:133-150.
Tong, H., E. S. Gaffney, and E. Buffetaut. 1998.
Foxemys
, a new sidenecked turtle (Bothremydidae: Pelomedusoides) from the late Cretaceous of France. American Museum Novitates 3251:1-19.
Links
Gene Gaffney's Phylogeny of Turtles (AMNH) (requires Flash plug-in)